Blog Archives
A slight-projector and a singel water drop shows a lot of bows. Here you can see the primary, secondary and tertiary bow.
The distance between the water drop an the projection backside (white paper) is 30 mm, waterdrop an light source has an diameter of 2 mm.
Photo taken on 28.07.2011 on my desktop
Author: Michael Großmann, Kämpfelbach, Germany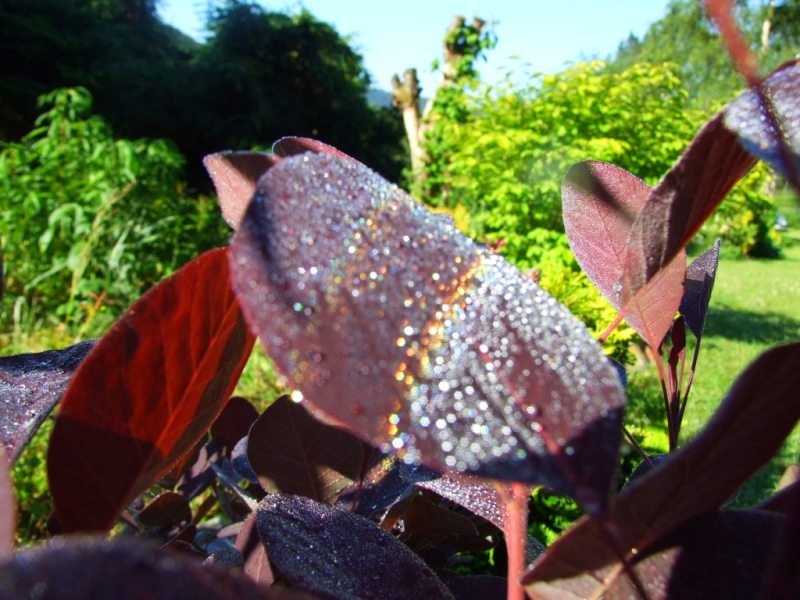 On June 25, 2010, Rüdiger Manig observed a double dew bow on unevenly spread morning dew on a leaf in Neuhaus am Rennweg (Thuringia, Germany).
Especially when he slightly defocussed his camera, the bow could be distinguished better.(1-2-3)
Actually, the distance between the two bows was less than 10°, the angle which one could expect in a double dew bow. Maybe, however, that the angle of refraction was significantly reduced by the deformation of the droplets on the leaf.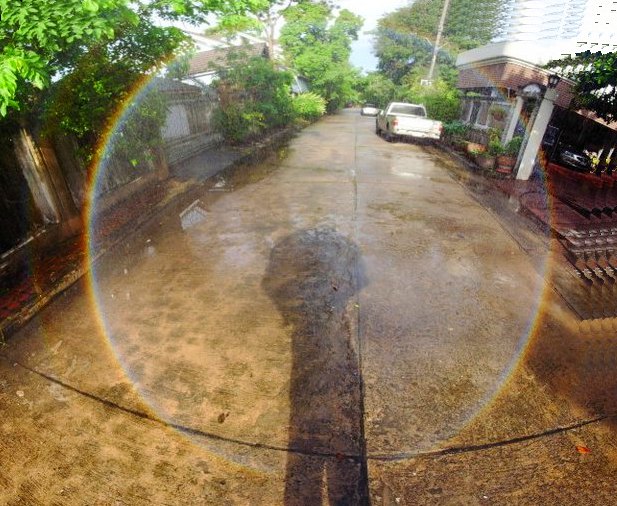 Partly because of my embarrassment to capture any pictures of rainbow this year, I dug up my old idea about how to create a circular rainbow and went to a local shop.
After few hours with some assistance, a bent-looking sprinklers frame was completed (1). The first test on 2 June 2011 was somewhat unsuccessful because the sun was too high and I could not find a right angle to see the whole rainbow circle.
For a few days, rain storm after rain storm poured down over Bangkok, with no sunlight in the morning. On 5 June 2011, a heavy rain hit Bangkok again before sunrise, but the sun appeared around 7:30 AM. Many rainbow shots were taken (2) and the photos were stitched together by "AutoStitch" on a PC.
Place : Bangkok, Thailand
Time : Sunday 6 June 2011, approx. 7:44 AM
Rainbow Equipments : A row of sprinklers placed approximately 4 meters above the street
Digital Camera : Ricoh GX200 + 19 mm. wide angle lens
Exposure : 1/200 sec , f/4.1 , ISO 64, Daylight setting
Photo Processing : 4 pictures, stitched together by 'AutoStitch' on a PC, no image enhancement
Author: Pitan Singhasaneh, Bangkok, Thailand