Category Archives:
meeting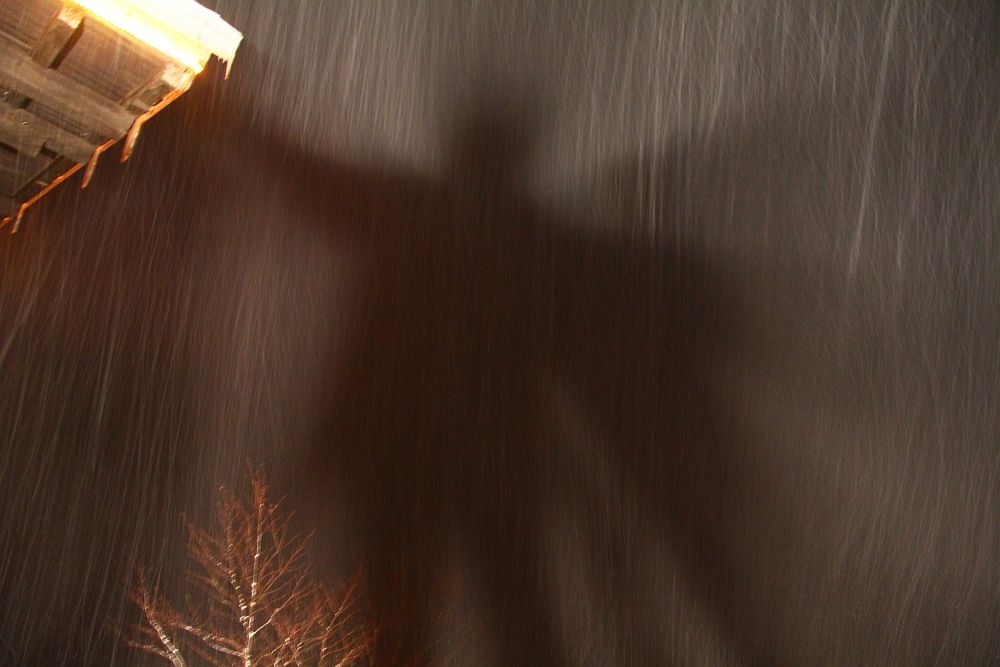 Observers and interested people of atmospheric phenomena convened on the first weekend in 2012 to the annual meeting on the Sudelfeld. Actually, the mountain saddle at an altitude of approximately 1200m acts as a predestinate location for halo observations, but the continuous snowfall buried all hopes – like most cars too, by the way.
But the "hydro-meteors" with its radians at the zenith also gave benefits, because the dancing snowflakes optimally served as a canvas for uncounted Sudelfeld monsters and angels, which were surrounded by glories and fog bows partially. Furthermore, we were initiated in the secrets of shooting photographs of snowflakes by Reinhard Nitze.
At our domicile, the Sudelfeld youth hostel, we could rewarm ourselves after nocturnal ghost hunting as well as listen to very interesting articles about light and colors in nature, phenomena in twilight, lamp halos, the three-dimensional appearance of ice crystal halos, bagel-like raindrops and spiderweb-halos. Also fascinating colorful pictures were shown in a great number.
However, the highlight of the meeting was Michaels Großmann's crazy experimental stuff. He did not even show his first and second edition of the "Halomator", (2 – 3 – animation), but also performs numerous experiments to illustrate the reason for blue-colored sky, the development of Quételet-rings (2), and the simulation of  higher order rainbows (2).
The next meeting is already being planned. It will take place in Davos/Switzerland on the weekend of 22nd to 25th November 2012. Davos is located at an altitude of 1600m and very popular in winter sports. There are many snow guns, that should support the looked-for halo activity. The meeting will be in German language. Interested persons are welcome and can register here.
Winter halos in nearby ice crystals are quite a rare sighting in most parts of Germany. However, there are few special places where the chances for such displays are much higher, such as the Alps mountains. To benefit from this, 14 halo enthusiasts met at the Sudelfeld Youth hostel near Bayrischzell in the vicinity of the Wendelstein (1838 m) during the second weekend of January. Already on Thursday (January 07) a very impressive halo phenomenon at the sun could be observed by Reinhard Nitze. Unfortunately, throughout the meeting a complete cover of low-level clouds blocked the sun so that halo observations were restricted to artificial light sources during night time. The highest halo activity was noticed at late Friday evening, involving light pillars (or superlamps), upper and lower 22° tangent arcs ("champagne glasses"), parhelic circles (visible for only few seconds), and superparhelia (not photographed due to fleeting appearance). The phenomena showed remarkable dynamics, lasting for about 10 minutes and being followed by intervals of 30-60 minutes without halos. The influence of snow blowers was discussed as well, since there were some of them running the whole night, approximately 500 m apart from the observation place.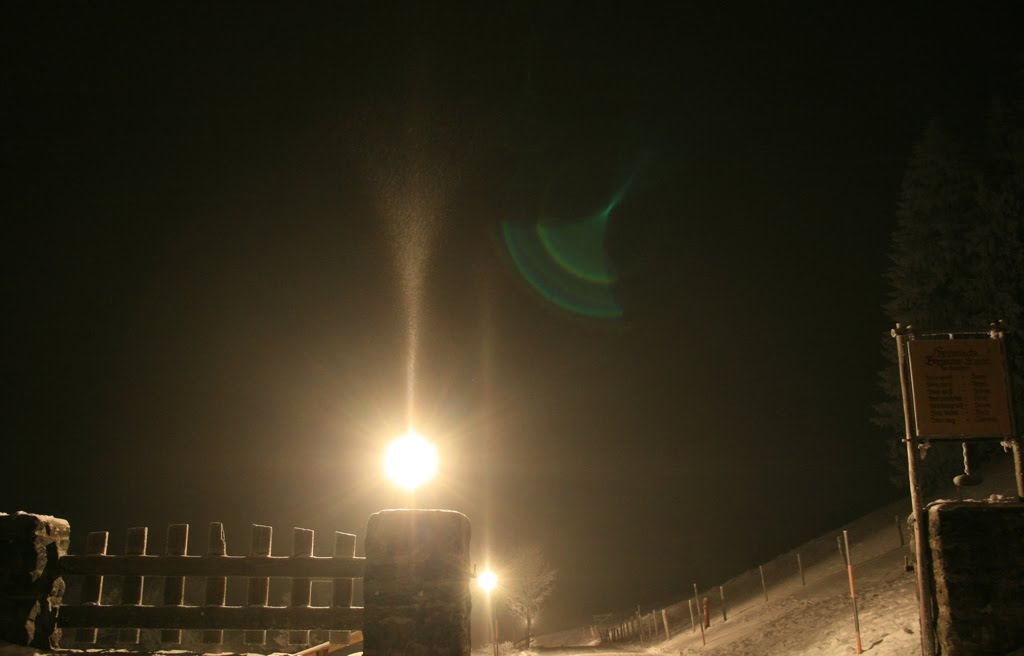 During the second evening only weak light pillars were seen for short times, eventually being replaced by fog bows due to rising temperatures and the transition from ice crystal to water droplet fog. Great fun were the shadow plays using a floodlight in the back of the people what finally led to photos of the "Sudelfeld monster".Apart from the actual observations, the participants joined a workshop program containing slideshows from Michael Großmann, Claudia Hinz, Reinhard Nitze, and Andreas Zeiske as well as talks dedicated to special topics such as halo image stacking by Georg Dittié, high dynamic range image processing by Claudia Hinz, high precision measurements of the moon's opposition effect by Elmar Schmidt, microphotography of snow and ice crystals by Reinhard Nitze, and artificial dew bows as well as stereo photography by Alexander Haußmann. The following experimental demonstration of glass bead bows in divergent light was received with great interest and triggered a high amount of photographic activity. Furthermore, an excursion to the nearby Tatzlwurm waterfall (named after some kind of dragon) was organized at Saturday afternoon and revealed a great winter landscape containing a large number of worthwhile photo subjects.
More pictures are here.
Author: Alexander Haußmann, Hörlitz, Germany